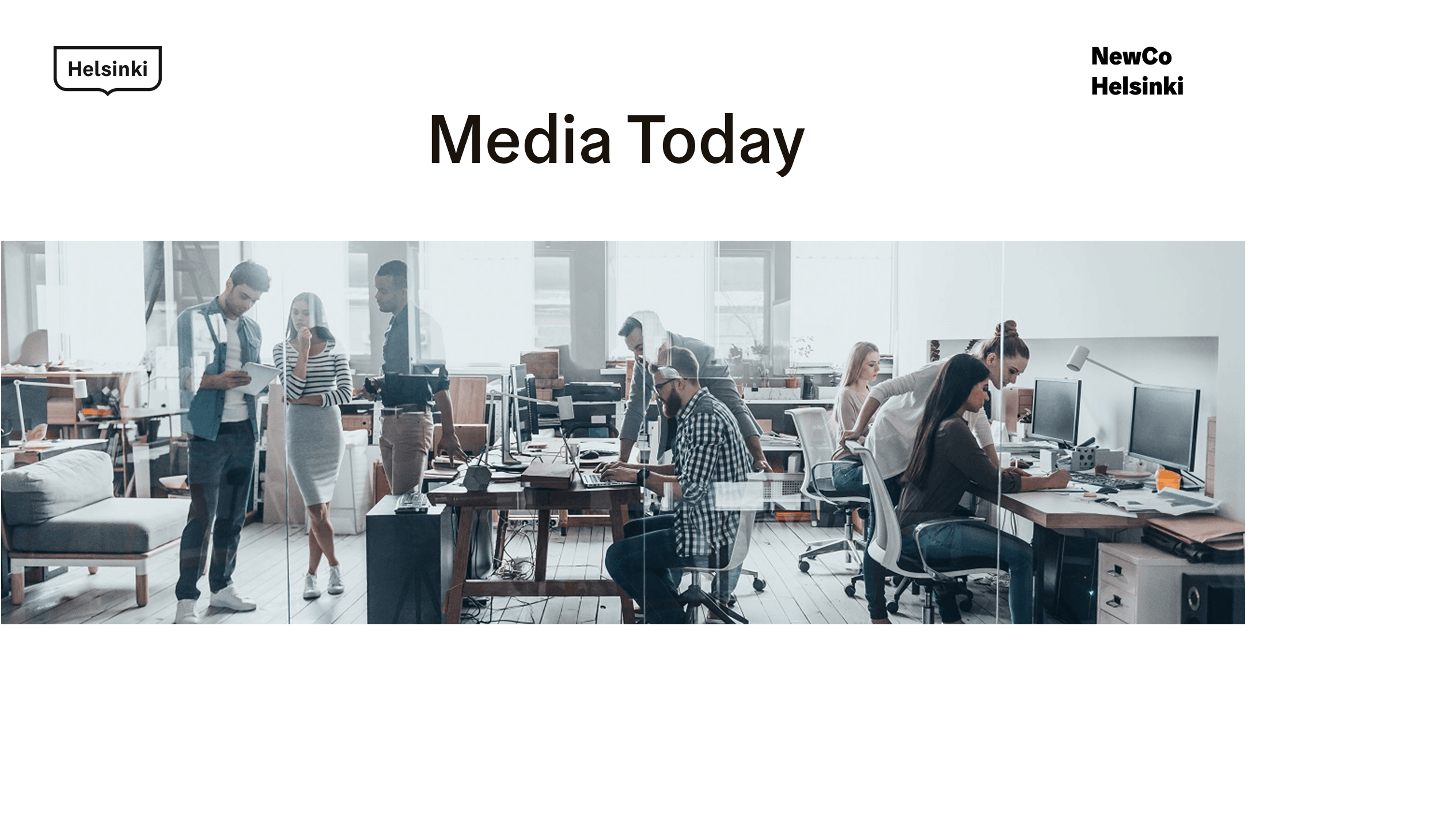 Social media, content marketing, press releases, events. How do they all come together?
Media Today is a series of three lectures for startup engaged individuals who want to understand how the media works in today's digital environment.
After this series of lectures, you can independently:
– make a marketing and communications plan
– feel much more at ease when contacting the media with interesting news
– avoid worst pitfalls in social and traditional media crises situations
– create a coherent content strategy for your interest groups and clients in your own media such as your website, e-mail, community and social media marketing.
The training is suitable for all professionals, who want to build their online brand communication and marketing. It is also good for the entrepreneur planning or startup in action. Also, if you are a board member wanting to evaluate your companies' skillset in marketing and communications, you can get a holistic view of what should be going on. 
22.8.2018 – Media Earned
When you do not get to say the last word, you have probably earned some media time. Discussions going wild on Facebook, journalists "not getting" your point. Media earned is the most believable form of communications but it is also the most challenging way to communicate.
Master your media when you get your 15 minutes of fame.
You will learn your News criteria 1-on-1.
19.9.2018 – Media Owned
Surprise! You are a media. Your website is the heart of your brand. Your brand is not just your visual identity. How to create interesting strategical, on-brand content in on-line marketing? How to Google Optimize (SEO) your messages above your competition? How long does it take? What can you achieve?
Master your own brand and website.
You will learn 1-on-1 measuring your brand.
10.10.2018 – Media Bought
Basic tools in Google Analytics and Ads (SEM). Best KPI's for leader's marketing. General information about different forms of advertising. Print ads, banners, recruitment adds and some things in between.
You will learn how to buy media wisely. What does it cost?
How much should I invest 1-on-1?
********************************************************
MBA Catarina Myllärniemi is a journalist and an experienced communications and marketing professional. Currently working as the Mark&Com Lead at SprintIT — an ERP startup — founded in 2014. Catarina understands ICT and the story & news potential that the digital era enterprises withhold. Catarina has a degree in pedagogics, and the lectures are neither boring or about only sitting and listening. Get up and learn!
"The media is the way, not the target itself."
– Catarina