Beijing-Helsinki Science & Technology Startup Forum 2018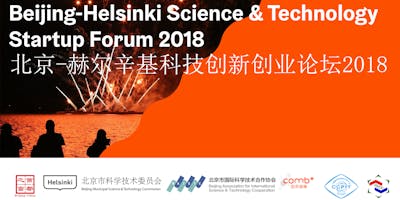 With the joint forces of the City of Helsinki, Beijing Municipality, and Beijing Municipal Commission of Science & Technology and NewCo Helsinki are organizing the Science & Technology Startup Forum – Celebrates Happy Chinese New Year in Helsinki – Beijing Week! Together we are inviting investors, startups, executives, corporations, and media from both cities to join us. This forum consists of keynote speeches, pitching competitions, matchmaking. Media presence guaranteed!
Dates: 7th, 8th, 9th February 2018
Location: NewCo Helsinki and Helsinki City Hall
The forum is arranged between 7th and 9th of February 2018 in Helsinki, and it covers three tracks:
1) Artificial Intelligence; 2) Smart & Clean; 3) Healthcare & Wellness.
Registration from http://bit.ly/2zCEPOZ

Here you can find the schedule: https://newcohelsinki.fi/en/science-technology-startup-forum/
BACKGROUND:
On 5th April 2017, President Xi Jinping and President Sauli Niinistö signed a Joint Declaration between the Republic of Finland and the People's Republic of China on Establishing and Promoting the future-oriented new-type cooperative partnership.
On 29th August 2017, in order to put the Joint Declaration into practice at the local government level, Beijing Municipality and City of Helsinki signed a three-year action plan with five priority areas of cooperation.
On 10th October 2017, to seek new areas of partnership in the spirit of the Action Plan and inspired by the "Moi Helsinki" event in Beijing in May 2016, the Beijing Bureau of Culture sent the City of Helsinki a draft program for 2018 Finnish "Happy Chinese New Year in Helsinki– Beijing Week" series activity.
The program highlighted four events in addition to the main cultural event. The four events related to (i) Science and Technology Exposition, (ii) Economic and Trade Consultation, (iii) Sports Exchange Activities and (iv) Beijing Tourism Picture Exposition.
北京市国际科学技术合作协会
Beijing  Association for lnternational
Science & Technology Cooperation
简介中文
北京市国际科学技术合作协会成立于1992年12月,由北京市科学技术委员会发起、北京市民政局批准,拥有独立法人地位的非营利性社团组织。北京市国际科学技术合作协会与政府职能部门、大学及研究机构、科学园区及企业拥有广泛稳定的合作渠道。同时,协会也与世界各大洲的主要国家政府、大学、研究机构、国际组织及民间组织建立了密切合作关系,为协会开展高层次国际科技合作交流打下了坚实基础。
地址:北京市西城区西直门南大街16号西楼8层
电话:010-66125807,010-66519072
传真:010-66154712
网址:http://baistc.org
简介英文
Beijing  Association  for  International  Science  &  Technology  Cooperation,  founded  in  December,  1992,  is  a  non-profit  association  with  independent  legal  person  status.  It  was  initiated  by  Beijing  Municipal  Science  &  Technology  Commission  and  authorized  by  Beijing  Civil  Affairs  Bureau.  It  maintains  comprehensive  and  steady  cooperative  channels  with  government  agencies,  universities  and  research  institutions,  science  parks  and  enterprises  at  home  and  abroad  it  has  also  established  close  collaborative  relations  with  governments,  universities  and  research  institutions,  international  organizations  and  NGOs  in  key  countries,  which  have  laid  a  solid  foundation  for  promoting  high-level  international  science  &  technology  cooperation  and  exchanges.
Address: F/8, West wing of No. 16, Xizhimeng Nan Avenue, Xicheng District, Beijing
Tel: 010-66125807,010-66519072
Fax: 010-66154712
Link: http://baistc.org