How to Protect Your Innovation? Patents and IPR in Life Sciences & Health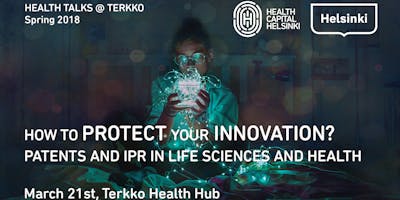 How can you protect your ideas and inventions? What kind of inventions can be patented? What's the difference between patenting, trademarking, and licensing?
Register for our training on Wednesday March 21, 2018 to find out how to protect your life science or health innovations and how to differentiate your ideas from others. The training is organized by Health Capital Helsinki and NewCo and it is free of charge.
Speaker:
Marjut Borgenström, PhD, is an Associate Partner and European Patent Attorney (Biology) at Kolster Oy. Mrs. Borgenström has worked at Kolster since 2002, and she has dealt with patent applications of several Finnish biotech companies. Mrs. Borgenström has broad experience in patents related to gene technology, immunology, and utilization of stem cells in medical applications.
Content:
In this training, you will get a good overview of intellectual properties (IP), as well as different forms of IP protection. We will go through the basic principles of obtaining patent protection, with a special emphasis on life science inventions.
The training will cover following topics:
Different forms of IP protection
Patentable inventions: what can be patented; some national differences
Patentability criteria and exceptions to patentability
Examples of patentable life science inventions
Where, when, and why to apply for a patent?
Estimated cost to apply for patents
Who can apply for a patent?
University Inventions
Patent Databases as the source of information and in the follow-up of competitors
Location: 
Terkko Health Hub, Haartmaninkatu 4, 00290 Helsinki
Target audience: 
Researchers, innovators, clinicians, and start-ups in the fields of health and life science
We hope to see you at Terkko!